news
Writer and Critic Valentin Kurbatov Has Passed Away
Text by Pavel Basinsky. The full text in Russian can be read here: Российской газете
It's hard to know how to even comprehend this loss. Today, on 7th March, Valentin Kurbatov, the literary and art critic who was a permanent member of the Yasnaya Polyana prize jury has died in Pskov aged 81.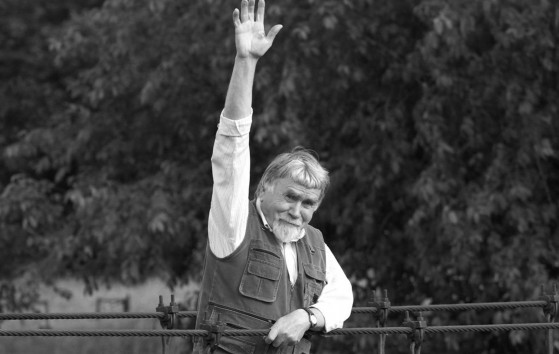 He was a man of extraordinary brightness; talented not only in all things literary but also in all things human - he was a true jewel of all our Yasnaya Polyana meetings. He was also a regular participant in the poetry festivals held in Mikhailovskoye. It was as though he himself was illuminated by Pushkin and Tolstoy's inner light.
He was born September 29th 1939 in the city of Salavan, Kuibyshev region (now Novocheremshansk, Ulyanovsk region) into a family of itinerant workers. At the beginning of the war, his father was drafted to the labor army in the Urals, while his mother, left alone, became a railway inspector. After the war, the family moved to the Urals, to the city of Chusovoy. Upon leaving school in 1957, Kurbatov worked as a carpenter at a factory. In 1959 he was called up to serve in the navy. During his naval service in the North, he was a radiotelegraph operator, typographer and librarian of the ship's library.
In 1962 he moved to Pskov, where he would live unitl the end of his life. There, he worked as a porter at a hosiery factory, then as a proofreader for the regional newspaper "Leninskaya Iskra", and as a literary contributor to the newspaper "Young Leninets". Later, he would enter the Faculty of Film Studies at VGIK film school, from which he graduated with honors in 1972.
He was a jury member of the Apollon Grigoriev Prize, the Grand Jury of the National Bestseller Prize (2001, 2002), and a permanent member of the jury of the Yasnaya Polyana Prize.
All of us - members of the Yasnaya Polyana jury and, I am sure, all the participants of the Yasnaya Polyana meetings - experienced each hour and day of communion with him as if we were studying under the patriarch of Russian literature. At the same time, he was always ironic, witty, never lectured, but rather always conducted his conversations as if we all, people of very different generations, were his close friends. And at the same time he was actually friends with the greats - Valentin Rasputin, Viktor Astafiev - and not just a friend, but their closest confidante in creative matters. While they too perceived him not just as a critic, but as their dearest ally.
He will be greatly missed in our literary life, which is already scant of such bright figures. Yasnaya Polyana has been orphaned by his loss.
Vladimir Tolstoy, Adviser to the President of the Russian Federation on Cultural Affairs, Chairman of the Jury of the Yasnaya Polyana Prize:
"For me, this is a huge personal loss. The loss of a person dear to me, who for many years was my closest interlocutor. The person with whom we laughed and cried and joked together. It's hard to believe that this all ended so abruptly. And in death too, he was remarkable. He died with a bouquet of flowers in his arms, not having made it home to his wife with them.
He had problems with his heart, but, as I always said, the biggest problem was its size. He had a huge heart in which he could encompass the whole world. He was always anxious about everything, always worrying, apprehensive on all our behalves.
And, of course, this is a huge loss for society too. He continued to connect us with Valentin Rasputin, Viktor Astafiev, and many other greats of Russian literature, who died before him. He corresponded with all of them; wrote wonderful articles and books about them. And yes, we can say that, lately, he had become the conscience of Russian literature. He was someone who within him combined the past with living modernity. He was a careful and close reader, especially, for instance, of the foreign literature books which made up the long list of the Yasnaya Polyana prize. He often amazed me with his precise, deep judgments about the most difficult foreign texts.
I cannot yet fully grasp this news. I felt the same way when my father passed away, just as suddenly. But just as I continue to talk with my father, I will continue to talk with Valentin Yakovlevich."